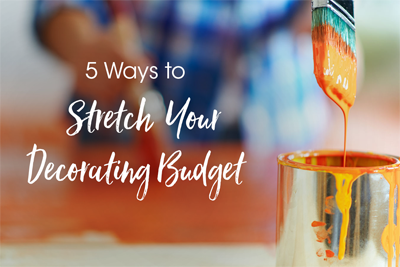 It is important to be realistic when creating your decorating budget. Think about what needs to be done first, then you can move onto what you want to be done. This year we are all about saving money and fostering a "don't buy it, make it" philosophy. For the next five weeks, we will walk you through how you can make big decorating changes that will have a minimal impact on your wallet!
1. Use paint to make a big splash
Paint can drastically change the design of a room depending on how it is used. Instead of repainting an entire room, think of using paint to create an accent wall. This will cut down on the cost of buying paint and primer to cover all four walls. Choose the smallest wall in the room and use that wall as your focal point.
Thinking of wallpapering? If you're artsy, consider making your own wallpaper using a stencil and paint. This method is much cheaper and you get more creative freedom than store-bought wallpaper.
2. Repurpose
Little did you know, your house is full of hidden treasures that just need a little bit of TLC. Before you replace your old couch or dining room chairs, give them a good look over and see if you can freshen them up. To bring a couch back to life consider upholstering it to give it a fresher look. You can also refill the cushions if they're getting a little flat.
For dining room furniture that needs a facelift, a good paint job should do the trick. Whether it is wood, plastic or metal, paint will give a second life! The best results do come from sanding and prepping your surfaces properly, so make sure you do research before you get started.
3. Recycle/ Upcycling
Second-hand stores are full of great finds in need of a new home. While you may cringe at the thought of a used couch, there are plenty of non-fabric pieces that are in excellent condition and cheaper. Plus, there's the added bonus of being more environmentally friendly.
For furniture that no longer fits the style of your house there are countless ways you can repurpose it to get the style you desire. Some simple ways are to distress furniture to make it look vintage. Old, wooden ladders work perfectly as a hanging unit for blankets/ scarves. And a dated mirror frame can be used as a picture frame—spray painting it is optional!
4. Reassign/ Add some touches
Take yourself on your very own home tour and see if you can reassign any furniture to different parts of your house. Something that is not quite working in one room might be perfect in another room. Here are some other easy fixes:
Add a mirror to make a room appear bigger
Switch out your old welcome mat for a cute/funny one that will make you smile every time you come home. Switch out lampshades- they collect a lot of dust and dirt so you should change or clean them every few months to keep them looking new. If you can find one in a store, swap out plain white for patterned.
Replace heavy patterned rugs with light colors to make the room look bigger and brighter.
5. Host a furniture swap
Chances are your friends and family are also wanting to redecorate so why not organize a furniture swap? We recommend inviting 8 friends and each can bring smaller items that are in good condition to the exchange (pillows, lamps, artwork, etc). For larger items, they can bring photos of furniture they would like to exchange. This is an eco-friendly way to get new things without having to buy new products.
c/o Century 21 Canada